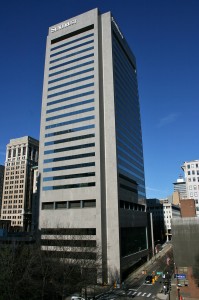 Building Name: SunTrust Tower & Plaza
Address: 919 East Main Street
Year Completed: 1983
Floors: 26
Height: 400.5′
Architect: Lee, King & Poole
Contractor: –
---
History:
SunTrust Plaza was originally constructed as the headquarters for United Virginia Bank. By 1987, the bank rebranded itself to be known as Crestar Bank with plans to expand outside Virginia. Crestar was subsequently purchased by SunTrust Bank on January 1, 2000.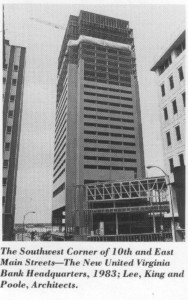 ---
Building Features:
The building is composed of a plaza fronting the corner of East Main Street and 10th Street. A triangular podium building fronts East Main Street, which then connects the tower located to the rear of the parcel, adjacent to East Cary Street. The tower features a private top level dining room with panoramic views of downtown. The exterior of the building is composed of granite panels and rectangular glass windows.
Since the building's completion, the tower has been the City's 2nd tallest building. The building is slightly taller than the Federal Reserve Tower when measured from the East Cary Street elevation to the rooftop.
In August 2005, Virginia's first and then largest green roof was installed on the podium's roof. The roof is composed of sedum and deksperma plantings.