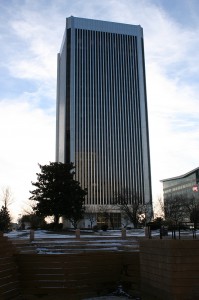 Building Name: Federal Reserve Bank Tower
Address: 701 East Byrd Street
Year Completed: 1978
Floors: 26
Height: 393′
Architect: Minoru Yamasaki
Contractor: Daniel & Company
---
History:
In March 1970, the Federal Reserve announced its initial plans to construct a new facility along the James River. The first proposal for the tower called for thirty-two (32) floors with a the final tower height of 461 feet. By 1972, the number of planned floors had been reduced to twenty-nine (29), three of these floors being underground.
The construction of this high-rise marked the first substantial office tower development south of Main Street, dubbed the Main-to-James area of downtown. The site was formerly an industrial parcel.
The high-rise office tower and below-grade structure cost approximately thirty (30) million dollars to complete.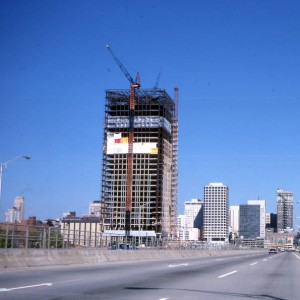 ---
Building Features:
Located along the banks of the Kanawha Canal, the Federal Reserve Bank Tower contains approximately 500,000 square feet of leasable space within the high-rise. Three (3) levels are located underneath the tower, with floor sizes ranging from three (3) acres in size to 5.8 acres. Two (2) mechanical levels are located on top of the office tower. Features within the building include a gym, an aerobics studio, executive dining room, cafeteria, hair salon, gift shop, auditorium and a shooting range.