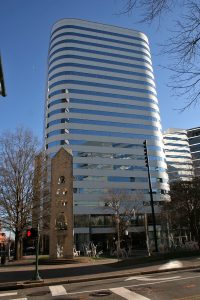 Building Name: Two James Center
Address: 1021 East Cary Street
Year Completed: 1987
Floors: 21
Height: 309.50′
Architects: Odell & Associates
Contractor: –
---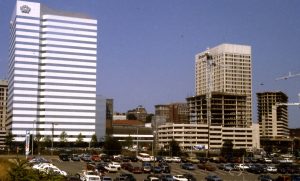 History:
Two James Center was constructed as part of the second phase in the James Center Complex. Phase 2 of the James Center spans two city blocks along East Cary and Canal Streets, between 10th and 12th Streets. This tower is the tallest building in the James Center complex. Construction on the tower began in late 1985.
Central Fidelity Bank served as the anchor tenant when the tower was completed. The bank moved its offices from the former Central National Bank Building on East Broad Street. In the following years, Central Fidelity Bank would be purchased by Wachovia Bank (and later Wachovia Bank purchased by Wells Fargo Bank). Signage for Wells Fargo Bank is located on the mechanical penthouse as of 2018.
The James Center, including Two James Center, underwent an extensive interior renovation in 2018 by the owners, the Riverstone Group.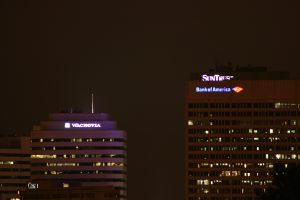 ---
Building Features:
The building is composed of a multi-tenant high-rise office tower, built on top of an underground parking deck. Approximately 350,000 square feet is leasable in this structure. The mechanical equipment located on the roof penthouse is screened with a tapered metal fascia screen, matching the metal fascia panels below the penthouse. Lighting on the crown, deactivated around 2008, was reactivated in early 2018. The tower is connected to an adjoining retail atrium, the Omni Hotel, a parking garage, and plaza fronting East Cary Street.
Based on construction photographs, the internal tower structure is constructed with reinforced concrete and clad with metal panels and glass windows on the exterior facade.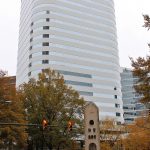 Sources:
Cooper, Elliott. "Central Fidelity begins move today." Richmond Times Dispatch. (June 26, 1987)