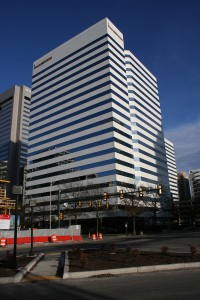 Building Name: One James Center
Address: 901 East Cary Street
Year Completed: 1985
Floors: 20
Height: Unknown
Architects: Odell & Associates
Contractor: –
---
History:
One James Center was the first structure to rise and be completed within the James Center complex, envisioned to be nearly four (4) city blocks in area. The original concept for this block would have had another twenty (20) story building attached to the glass ten (10) story mid-rise portion fronting East Cary Street. Today, this tower portion is occupied by a landscaped plaza. Construction on the tower began in 1983.
One James Center was constructed as the headquarters for Dominion Bank as its anchor tenant. In the following years, Dominion Bank would be purchased by First Union National Bank, which was later purchased by Wachovia Bank in 1998.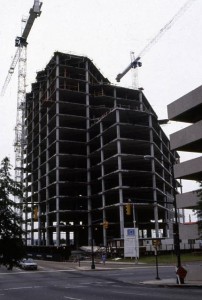 ---
Building Features:
The building is composed of a high-rise tower and plaza. The tower encompasses roughly two-thirds (2/3) of the 900 block of East Cary Street. A large two-part sculpture is located at the corner of East Cary Street and South 9th Street. The bronze men were sculpted by Lloyd Lillie and the sail mast by Alexandra Kasuba. A roof terrace is located on the 9th floor, overlooking East Cary Street.
The tower is constructed with a concrete reinforced frame and clad with a combination of metal and glass panels for the exterior facade.