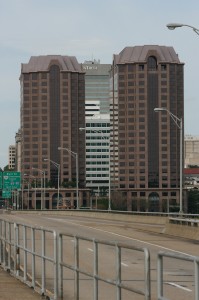 Building Name: Riverfront Plaza, East & West Towers
Address: 901 & 951 East Byrd Street
Year Completed: 1990
Floors: 20 (Each)
Height: 301′ (Each)
Architect: HKS Architects [Keith Summons]
Contractor: Daniel & Company
---
History: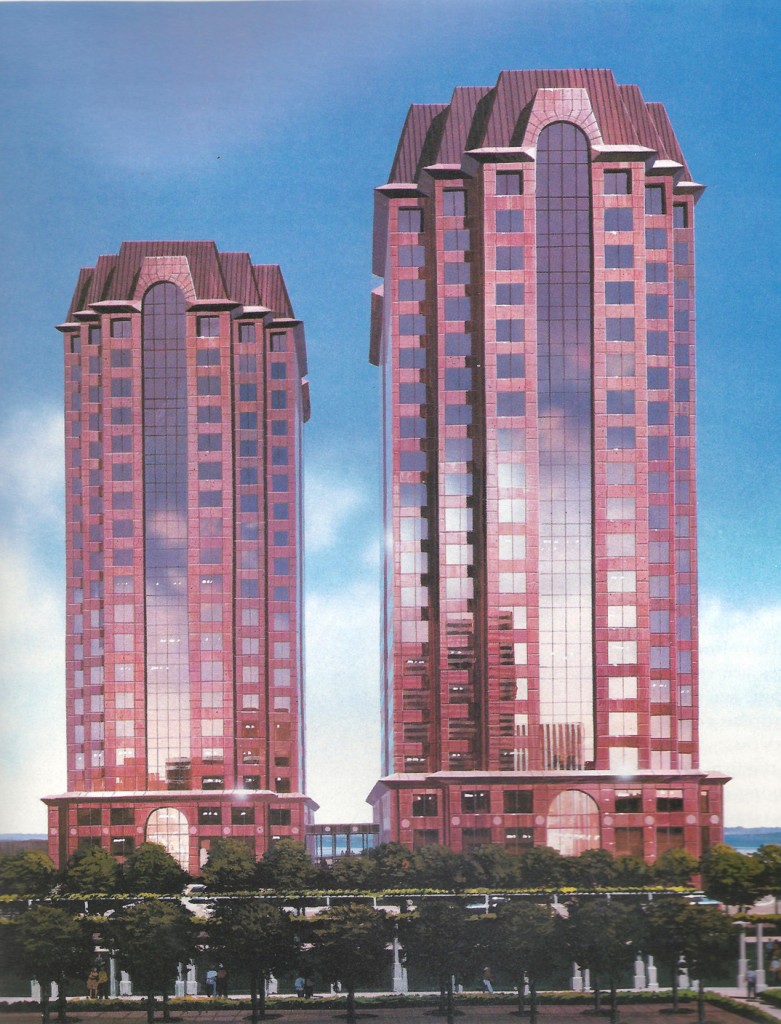 The Riverfront Plaza complex was first announced in May 5, 1987. The lead tenants for the project were the Hunton & Williams law firm and Wheat First Securities (which was merged with First Union and now Wachovia). The project was initially billed at costing 136 million dollars to construct. The original design for the towers featured triangular center windows at the top of the podium base and tower. The roof also featured a  hip roof at the staggered corners of the tower. The windows and roof line were revised prior to the start of construction to match the rendering above.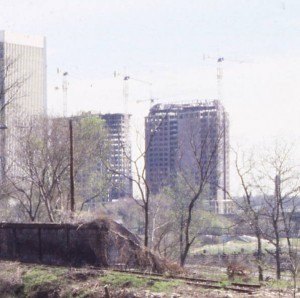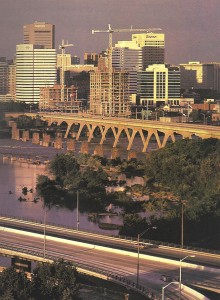 Construction on the project began on February 8, 1988. The towers were finished in late 1990. The exterior of the towers is clad in "Sunset Rose" granite, bronze windows and a copper-colored mansard roof. The towers are not identical. The East Tower features a balcony on the 20th story overlooking the James River. The West Tower features a private, landscaped terrace on the fourth (4th) floor of the tower podium.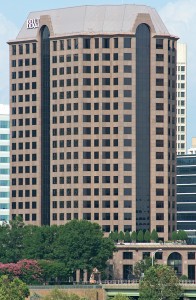 ---
Building Features:
Riverfront Plaza is an office complex that is composed of a partially exposed underground parking garage (2,300 parking spaces), ground level and elevated plazas, and two (2) twenty-story towers. Each tower sits on a slightly larger base which is connected by a glass atrium. The towers are staggered on the site to provide maximum views of the City and James River from offices located in the complex. The roof is illuminated at night by lights.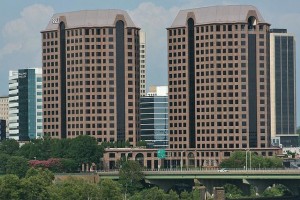 ---
Sources:
Various Richmond Times-Dispatch Articles
Book: "Richmond, A River City Reborn"