Webcam Link:
N/A
Address:
???
Estimated Completion Date:
20??
Rendering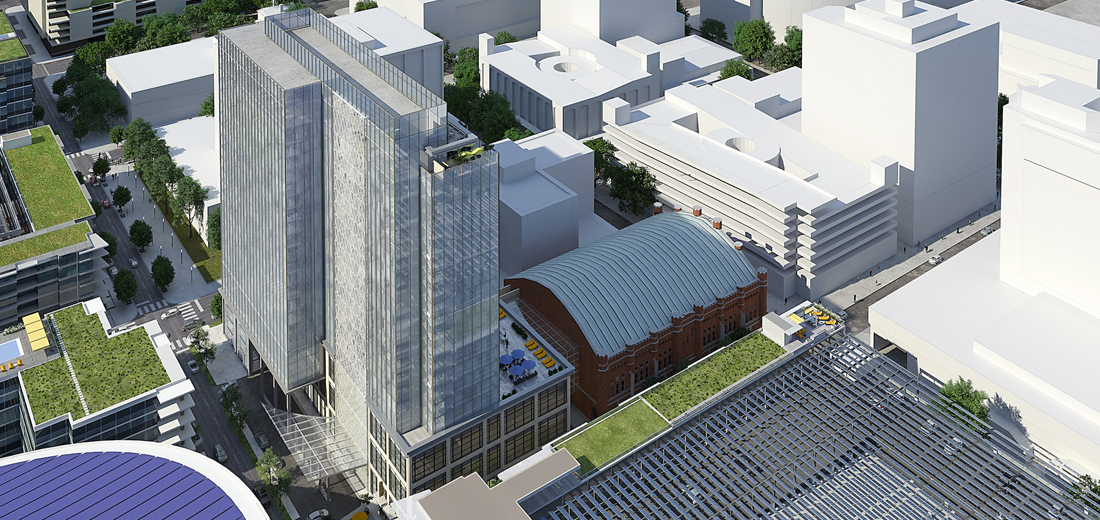 Updated: $1.4B Coliseum redevelopment plan receives mayor's support, now goes to City Council
Jonathan Spiers wrote:The proposal from a group of Richmond corporate heavyweights to redevelop the Coliseum and surrounding area north of Broad Street has the support of Mayor Levar Stoney, who announced Thursday his intention to send the $1.4 billion project to City Council for potential approval.

With the aging, nearly half-century-old arena visible behind him, Stoney formally threw his support behind the proposal by the Tom Farrell-led NH District Corp. at a gathering across the street in the Greater Richmond Convention Center.

Farrell, CEO of Dominion Energy, sat in front of and applauded Stoney alongside former SunTrust executive C.T. Hill and others involved in the lone proposal submitted in response to a city RFP put out last November, nearly a year to the day.

Stoney lauded the plan, now referred to as the Navy Hill neighborhood redevelopment, which would replace the Coliseum with a 17,500-seat arena and redevelop the 10-block area bounded by North Fifth, East Leigh, North 10th and East Marshall streets with 2,800 new housing units, including 2,520 market-rate apartments and 680 income-based units, and a 23-story, 527-room Hyatt Regency hotel to serve the convention center.

Plans also call for preserving and redeveloping the old Blues Armory building with a 20,000-square-foot food court plus entertainment and event spaces, replacing the GRTC transfer center along Ninth Street, and re-use of sites filled with outdated city buildings.
https://richmondbizsense.com/2018/11/05 ... y-council/