Webcam Link:
N/A
Address:
601 East Grace Street
Estimated Completion Date:
2020? (On Hold)
Rendering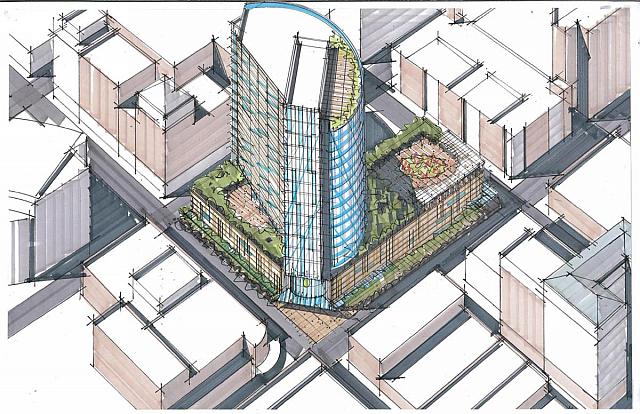 Residential tower, 800-space parking garage proposed for Grace Street lot across from Carpenter Theatre
NED OLIVER wrote:A Richmond development partnership is floating a plan to construct an $86 million residential high-rise across from the Dominion Arts Center's Carpenter Theatre downtown that would include ground-floor retail and an 800-space parking garage.

The principals of City Center LLC said designs remain very much in flux, but showed the Planning Commission a rendering Monday that depicts an 18-story structure on the block bounded by Grace, Sixth, Seventh and Franklin streets.

The property is owned by the city and currently houses a surface parking lot and a parking garage built in the 1920s that is largely disused due to structural problems.

"We have looked at a lot of different options," said Robert P. Englander Jr. of CathFord Consulting. "What we know is that it's going to be a contemporary building with a good bit of glass and deep terraces for all the residences, but other than that we have not foreclosed any other options."

CathFord Consulting has partnered with Taylor and Parrish Construction and the architectural firm Price Studios to pursue the project under the auspices of City Center. Englander said there also are an unspecified number of investors backing the project, whom he declined to name.
https://www.richmond.com/news/residenti ... c6b09.html