Webcam Link:
N/A
Address:
2801 East Main Street
Estimated Completion Date:
????
Renderings: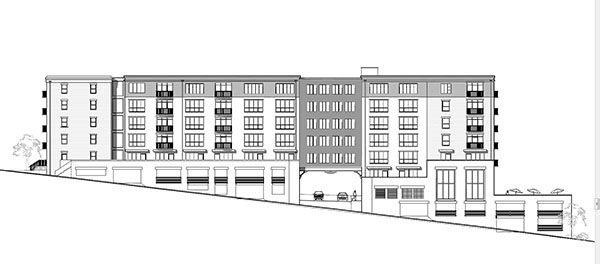 Apartment project near Libby Hill proceeding with new developer
A years-in-the-making apartment building planned near the foot of Libby Hill is inching closer to construction, with a new developer signed on to see the project through.

Conceptual plans for a five-story complex at the corner of East Main and Pear streets have been submitted to the city, though those plans could be modified as a result of a pending deal between the site's current owner, Shockoe Bottom-based Historic Housing, and Guy Blundon of CMB Development.

Blundon is under contract to purchase the property, along with two neighboring parcels that also front Main Street, from Historic Housing's Louis Salomonsky and David White, who secured zoning for the project last year after a previous proposal for a 13-story condo tower was withdrawn due to concerns from area residents.

The three adjacent parcels – 2801, 2823 and 2825 E. Main St. – include the existing Shiplock Watch apartments building and a triangular-shaped parcel near the intersection of Main and Williamsburg Road that's planned to be developed as landscaped parking.
https://richmondbizsense.com/2018/07/16 ... developer/